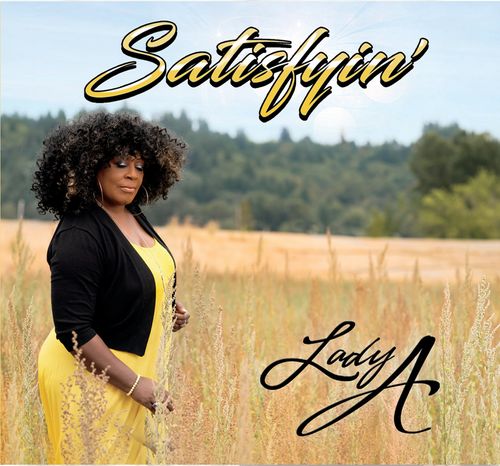 On A Personal Note
Musical History
This songstress began singing at age 5.  She began her performance career as a back-up singer in a Motown Revue band during the 90's.  Her love of music, gospel background, Louisiana roots, and  musical family always led her back to the Blues and Gospel music, mixed with flavors of soul and funk like a perfect jambalaya.  Known as "The Hardest Workin Woman in Blues, Soul, Funk & Gospel"  continue reading and find out why...  

New CD Release 
European Release of Satisfyin' October 21st ~ 2021
U.S. Release of Satisfyin' February 7th ~  2022
Though born and raised in Seattle, Washington, you can clearly hear the southern undertones in her music and lyrics .
Lady A also performs as a solo act when on the road and has been front woman for European bands such as Sweden's Top Dogs of Soul and The Netherland's band Blind Bart & the Visionarrie's. 

Lady A also works and performs with her accompanist and pianist/producer John Oliver III, doing special projects such as, United by Music Europe and North America which she has been a mentor from 2011 - 2016.  Because of her assistance with the UBM organization was asked to come to Denmark by Music Unites Europe in order to work with and teach a Gospel Music Workshop with bands and singers from Germany, Holland, Sweden and Denmark.  Both organization help intellectually disabled persons sing and perform on stage and are dear to Lady A's heart.  My belief is to always "Give Back, that which you have been Blessed with"

She produced her first mini tour, Buzin The Northwest, in March of 2015 featuring Deep Rush Record Recording artist, Dexter Allen and herself from Seattle to Portland ~ This tour was met with acclaimed success by sold out audiences and festival producers have praised her accomplishment of producing and performing during this tour.  In May of 2017 she produced The Big Blues Blowout with mentor and friend,  2017 Grammy Winner Bobby Rush, Chicago's Nellie Tiger Travis, and Producer, Dexter Allen.  Again to a sold out Seattle audience.  Proving she is a Producer as well as an Artist.
She is on the Board of Director's of the Rhapsody Music Project in Seattle, WA, also a mentor and vocal coach  and newly named Director of Washington Blues Society Blues in the Schools program for 2022. 

Continuing to be a National and International sensation, whether during a Festival,  in a  nightclub, or  private party setting or simply by helping others in order to educate  in music and positive lifestyle, this Pacific NW Diva is always backed by one of the Best and Ferocious bands out of Washington, Oregon or across the pond. "A New Breed of Blues" ... The Lady also stays rooted in her music by hosting a Welcome to the Porch showcase - where she invites her audience to participate in a night of old school blues, gospel and soul on stage to begin a perfect night out for audiences of all ages. 
 
Don't miss it.. or you'll Miss it!